SMF Fund Managers are selected through a highly competitive application process. Student Fund Managers apply the knowledge they learn in the classroom to real investment portfolios, traditionally earning impressive returns even in today's volatile economic environment.
SMF Investment Team: Graduate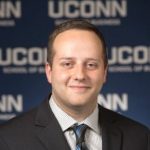 CO-LEAD MANAGER, CO-PORTFOLIO MANAGER
Jeremy Hite
MBA-2017
Concentration: Finance
Jeremy is a second year MBA student at the University of Connecticut with a concentration in Financial Analysis and Investments.  Prior to joining the UConn MBA program, Jeremy worked as a manager in Public Finance for 5 years, specifically working with municipalities on debt restructuring deals.  Previous experience also includes working for 2 years on the Accounting team for a Fortune 500 telecommunications company outside of Boston.  While his focus is in Finance, Jeremy has gained valuable work experience in Management, Accounting, and Marketing.
This summer Jeremy interned with MassMutual Financial Group in their Municipal Guaranteed Investment Contract Team, which is a new group under their Asset Management division.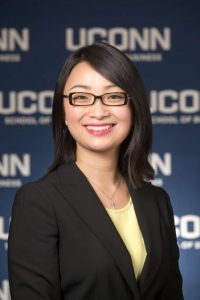 CO-LEAD MANAGER, CO-PORTFOLIO MANAGER
Wei Wang
MBA-2017
Concentration: Finance
Wei is a second year MBA student at the University of Connecticut. She has a Ph.D. degree in Materials Science and Chemical Engineering focused on Numerical Modeling from University of Minnesota. After graduation, she worked as a Senior Process Engineer supporting key customer accounts for Applied Materials, Inc., a global leader in the Semiconductor industry, at the Albany, New York office. She was in charge of leading project teams to solve customer's technical problems, and collaborating with sales team to promote new businesses. She successfully completed more than 20 projects in 3 years as project leader, generated solid relationship with customers, and earned the highest Customer Satisfaction Score across the company. As a result, she was promoted twice and became a Senior Principal Engineer. She then decided to explore more opportunities in life and became a full time MBA student at UConn.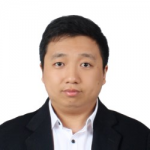 TECHNOLOGY MANAGER
Tao Feng
MSFRM-2017
Tao is currently pursuing a MS degree in Financial Risk Management. He is the program coordinator and the teaching assistant of the MSFRM program, who teaches in both Hartford campus and Stamford campus, and the vice president of UConn Graduate Finance Association. He is a CFA level 2 candidate and FRM level 2 candidate. He holds a Bachelor of Science in Business Administration degree, specialized in Finance, from the Ohio State University. He has developed strong programming, analytical, quantitative, communication and leadership skills.
MSFRM-2017
Yuqi Han is a second year graduate student in Financial Risk Management program. Prior to enrolling in Uconn, she used to work as institutional sales in Horizon Insights in Shanghai, an independent research firm, providing financial services for institutional investors. She also holds another master degree in UK towards Financial Analysis and Fund Management and passed all three levels of CFA exam.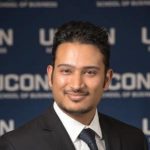 Vikram Kaimal
MBA-2017
Concentration: Finance
Vikram is a second year MBA student with a concentration in Finance. He has over 8 years of professional experience, including five years in stock broking and wealth management. Prior to joining UConn, Vikram worked as a cluster manager with Capital First Limited, a leading financial services company in India, where he managed 7 branches and led a team of more than 30 full-time employees. Vikram has an undergraduate degree in electrical engineering and a Post Graduate Diploma in Management.
This past summer, he interned at the Connecticut Center for Entrepreneurship and Innovation, assisting startup companies with financial modelling, market sizing, and competitive assessments.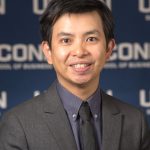 Pei-ju Lee
MBA/MSBAPM-2017
Major: Finance & Big Data Analysis
Pei-ju is a second year MBA and MS in Business Analytics & Project Management dual-degree student at University of Connecticut. With a concentration in Fintech (finance and big data analysis), Pei-ju introduces quantitative analyses to valuation and portfolio management. Prior to MBA, Pei-ju worked as a Research Scientist and Deputy Manager in publicly traded consumer staples companies in Taiwan for seven years. In addition to product development projects,  Pei-ju used to develop new business strategies, including market analysis and  financial planning.

This summer Pei-ju interned in Autobeacon LLC, a technology startup also winner of  2015 CTNext and UConn iQ innovation awards, as Business/Marketing Analyst intern, performing financial projection model and go-to-market strategies for business development and fundraising.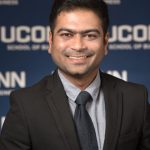 Vishal Page
MBA-2017
Concentration: Finance
Vishal Page is a 2nd year MBA student at University of Connecticut specializing in Finance and Analytics. Before getting back to the business school, he worked for over 10 years in marketing and technology. As a Client Manager at Infosys he managed a $ 6 Million account and headed the bid management function for the manufacturing vertical in Asia-Pac. Vishal spent his summer at Dell where he worked as a strategy and operations intern for the global services and support team. He holds an undergraduate degree in Electrical Engineering and is a certified PMP.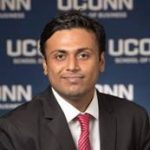 Azmath Rahiman
MBA-2017
Concentration: Finance, Portfolio Management & Business Analytics
My Story: Since my undergraduate education in Biotech Engineering at University of Calicut (India), I have been engaged in a number of entrepreneurial activities in India and the Middle East. I have successfully completed a wide variety of industrial projects for leading refining, power and mining companies. During my entrepreneurial and consulting career I have also been, and continue to be, a passionate learner of the school of value based investing. My passion to learn more about investment has led me to pursue my MBA at UConn. I completed my summer internship with Founders Capital, a value based investment firm focused on long-term investing in publicly-traded equities and fixed income holdings.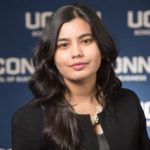 Priyanka Raja
MBA-2017
Concentration: Finance
Priyanka Raja is a proactive professional with 3 years' experience in finance. She has an undergraduate in Business studies and a Masters in Commerce. During her career, she had the opportunity to work in investments and accounting where apart from her financial skills, responsibilities included people management, cross functional collaboration and problem solving through analysis.
Currently, Priyanka is in her second year MBA after a stint as an equity research analyst over the summer. Her concentration will be focused on Finance, Portfolio Management and Analytics. During MBA, Priyanka has gained experience and honed her skills with the vision to step on to the competitive global platform.